Silver Beaver Award
What is the Silver Beaver Award?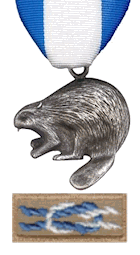 Silver Beaver Award is the council-level distinguished service award of the Boy Scouts of America. Recipients of this award are registered adult leaders who have made an impact on the lives of youth through service given to the council. The Silver Beaver is an award given to those who implement the Scouting program and perform community service through hard work, self sacrifice, dedication, and many years of service. It is given to those who do not actively seek it.
You can see the list of our distinguished recipients here.
How do I nominate someone to receive the Silver Beaver?

 Silver Beaver Nomination Form

 Silver Beaver Nomination Form
The Sequoia Council Boy Scouts of America, acting through the National Court of Honor, is given the opportunity to present the Silver Beaver Award for distinguished service to youth.
The award is presented to registered adults of exceptional character within the jurisdiction of the Sequoia Council for noteworthy service to youth. The award is limited to adults (over 21 years of age) who are currently registered volunteer Scouters. It cannot be presented posthumously.
Any volunteer can make nominations for this award. An appointed Silver Beaver Committee makes the selection of the Silver Beaver recipients from the nominations received. The Council is allowed to recognize a specific number of volunteers for this award, which is then presented at the Annual Council Recognition Dinner. It is a general policy that no public announcement shall be made by the Council in advance of action by the National Court of Honor with reference to the names presented for consideration. Nominations should be processed without the knowledge of the nominee.
To nominate someone for the Silver Beaver:
All three parts of the nomination form must be completed.
Please give the full name and title (if any) of the nominee just as you want it to appear on the certificate (Part I – NOMINATION FORM [Pg. 1 of 6]).
You may use the back of the form or additional sheets of paper, if necessary, to complete Sections A – G of Part II, the BACKGROUND INFORMATION WORKSHEET. It is essential that you research your nominee and include as much information as is possible.
Include a minimum of three letters of support (Part III – LETTERS OF RECOMMENDATION) from a variety of sources: Scouts or other individuals who can attest to the nominee's service to youth.
Consideration for this year's nominations must be received at either the Fresno or Visalia Service Center by December 31st.